Customize Your Chevy with Accessories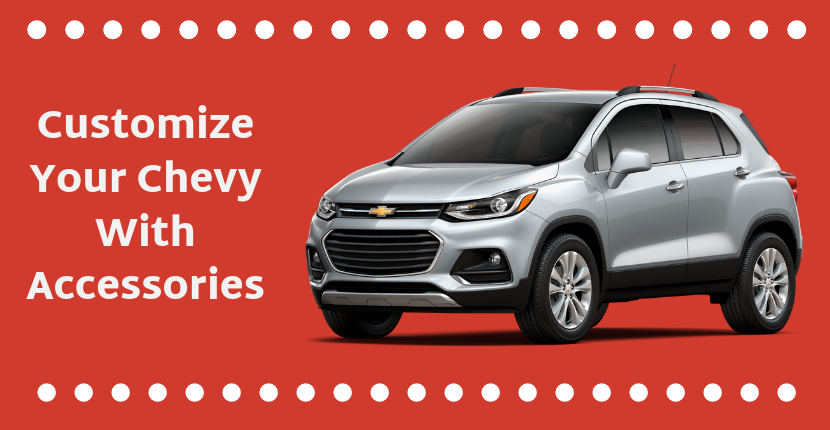 Chevy is known for creating powerful and reliable vehicles for an affordable price. Like every new vehicle owner, you want to accessorize your new purchase with gadgets that help make driving easier and safer. If you already trust your Chevy vehicle to get you to your destinations safely and securely, why would you trust a third-party to provide you with the best accessories? The Chevy service center offers great accessories for all Chevy vehicles. From your old 1995 model to brand new 2019 Chevy models, the automaker provides the best accessories for your Chevy.
Floor mats and liners
You wouldn't take your car to an uncertified mechanic, so why would you trust any other floor mats and liners than Chevrolet's to protect the interior of your Chevy? Chevrolet offers completely customizable floor mats and liners that are made for Chevy vehicles. Chevy's mats and liners fit securely around the interior trim, footwells, driver pedals, door sills and seat tracks of your Chevy to protect your vehicle's carpeting. Not only do Chevy's mats and liners keep your vehicle's carpet spotless, but they also come in a wide array of colors! Here's the best part: Chevy's floor mats and liners come with a long warranty so you know your money is being well spent.
Cargo and clutter management
Chevrolet understands that people live very busy lives, and much of their time is spent driving from one place to the next. To help keep you and your busy schedule organized, the automaker offers many exterior and interior accessories that keep you calm and on the move. For instance, roof-mounted bicycle carriers, as well as hitch-mounted ski carriers are available to add to any Chevy vehicle. Do you need to keep the interior of your vehicle free of clutter and organized? Look no further than Chevy's front floor console organizers or rear cargo totes and organizers! The Chevy service center offers these accessories to make your morning commute a breeze.
Click here for more information about Chevrolet's customizable accessories or visit your Antioch Chevy dealer today to speak to a team member from Chevy's service center. Your Chevy dealership works make every drive safe and enjoyable.