6 Reasons to Choose Raymond Chevrolet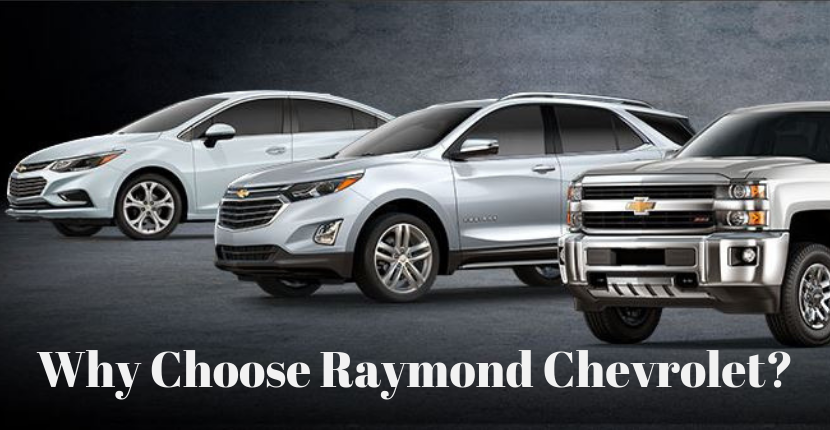 Raymond Chevrolet is the car dealership for you because we want to help you find great service or a great vehicle selection. Check out six reasons why you should choose Raymond Chevy.
We Have the Vehicles You Want – Whether you are looking for 2019 Chevy models or a used vehicle, we have a wide selection that can satisfy your needs. You can find new and used cars, trucks, and SUVs from Raymond Chevy, and our staff will help you find the vehicle that will fit perfect with your needs.
We Want to Help You – At Raymond Chevrolet, we care about how we treat you. Whether you are looking for a new vehicle or someone to fix your old vehicle, we are here to help. We want to help you receive amazing customer service, and we want to help make your life easier. That is what we strive to do at Raymond Chevy.
You Can Find Financing Options – Car payments are enough to give anyone a headache. It can be hard to determine which vehicles will fit your budget and what your budget even is. Our Finance Department can help you with all of that. We have financing experts that can help you find a car loan or lease that fits with your budget and your lifestyle.
We Have An Experienced Service Department – Whether you need routine maintenance done, or some more extensive repair, we have the service professionals that can help you. Our Service Department has experience, and we will work hard to get you back on the road in no time. You can even schedule a service appointment online.
We Have the Experience and Excellence – At Raymond Chevrolet, we focus on customer service and satisfaction. That is why we are known as a top-performing dealership, and that is why we have received the prestigious Mark of Excellence award three times.
We Offer Great Specials – We understand that a vehicle is a big purchase. That is why we offer great deals and specials on some of our top vehicles. That way these vehicles can be a bit more affordable for you!
As you can see, there are a lot of great reasons to choose Raymond Chevrolet as your Chevy dealer. You can find great Chevy models for sale including 2019 Chevy models, you can find great Raymond Chevrolet service, and more. Raymond Chevrolet is your Antioch Chevy dealer, so stop by and see us today.